Leo
Regular price
£148.00
Sale price
£148.00
Unit price
per
Sale
Sold out
Crafted in Italy

Our jewellery is carefully crafted in the North of Italy, keeping the highest standards in both the materials and methods they use. Our manufacturers use the most advanced production processes to give birth to pieces that will last a lifetime.
Waterproof & Tarnish-Free

We are very keen to offer jewellery that will never make you worry about its quality. All our gold pieces are treated using a Micron-plating process, which ensures durability and a shining finish, and protects them against scratches and tarnish.

For our silver products, we use effective rhodium plating to make them waterproof and preserve them from oxidising.
Free International Delivery

Free Delivery for all orders

All orders are processed next business day (excluding weekends and holidays) after receiving your order confirmation email. For further information please read our Shipping Policy.
Lifetime Warranty

Each one of our jewellery pieces is crafted with the utmost care, using the highest quality materials. Crafted by expert Italian manufacturers, every item we sell is covered by a lifetime guarantee.

Therefore, if you notice any kind of discolouration or defects that leads to breakage, UNTAMD is keen to replace your jewellery at no additional cost, as part of our guarantee promise.

However, kindly consider that we cannot take any responsibility for any damage coming from everyday use, nor does our warranty policy cover any lost or stolen items.

Please read our Product Warranty Policy for further information.
925 Sterling Silver with 18K gold vermeil
It is house to many bright galaxies, and the origin to meteor shower that awe the sky twice every year. The mythical lion is still a symbol of strength and bravery, and it was placed in the night sky as the "king of all beasts" to watch over its creatures..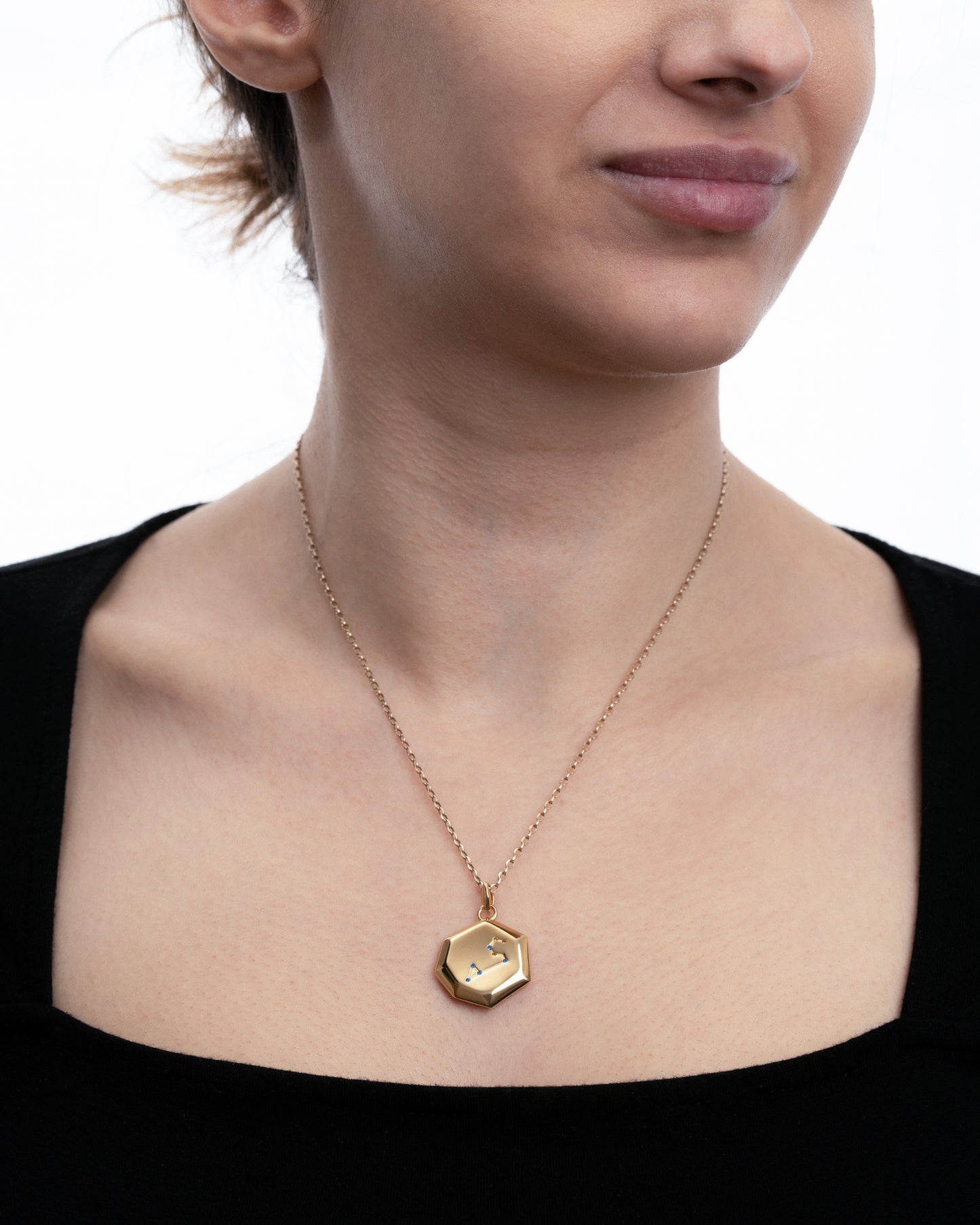 Ring Sizing
Circumference
mm
Diameter
mm
Ring Size
UK
Ring Size

Ring Size
EU
Ring Size
USA
37,8
12,04
A
12
38
0,5
39,1
12,45
B
12,5
39
1
40,4
12,85
C
13
40
1,5
41,7
13,26
D
13
42
2
42,9
13,67
E
13,5
43
2,5
44,2
14,07
F
14
44
3
45,5
14,48
G
14,5
45
3,5
46,8
14,88
H
15
47
4
48
15,29
I
15
48
4,5
48,7
15,49
J
15,5
49
5
50
19,9
K
16
50
5,5
51,2
16,31
L
16
51
6
52,5
16,71
M
16,5
52
6,5
53,8
17,12
N
17
54
7
55,1
17,53
O
17,5
55
7,5
56,3
17,93
P
18
56
8
57,6
18,34
Q
18
58
8,5
58,9
18,75
R
18,5
59
9
60,2
19,15
S
19
60
9,5
61,4
19,56
T
19,5
61
10
62,7
19,96
U
20
63
10,5
64
20,37
V
20
64
11
65,3
20,78
W
20,5
65
11,5
66,6
21,18
X
21
67
12
67,8
21,59
Y
21,5
68
12,5
68,5
21,79
Z
22
69
13
Materials & Care

Avoid applying makeup that contains mercury directly to the jewellery
Put on skincare and spray perfume before putting on your jewellery
Keep the jewellery in their boxes away from humidity and extreme temperatures
Wash your jewellery with lukewarm water & sunglass cleaning cloth or a soft toothbrush

Delivery & Returns

Free Delivery for all orders.

All orders are processed next business day (excluding weekends and holidays) after receiving your order confirmation email. For further information please read our Shipping Policy.

--

We accept returns or requests of exchange within 28 days of the purchase date, if the item is unused and in its original condition, and we will refund the full order amount minus the shipping costs for the return. 

Please read further details at Refund Policy